32nd Annual City of Tampa Black History Celebration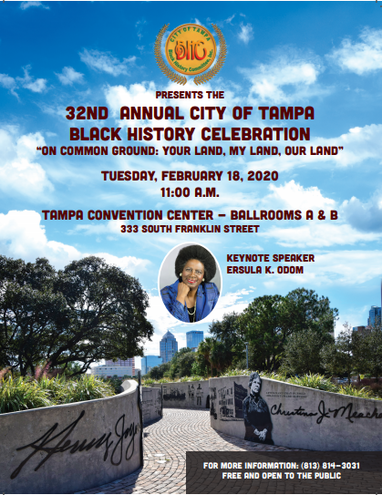 Tuesday, February 18, 2020
Location: Tampa Convention Center 333 S Franklin St, Tampa, FL 33602
Tuesday, February 18, 2020 11:00 am
This years' celebration will be held on Tuesday, February 18, 2020at the Tampa Convention Center Ballrooms C & D at 11:00 a.m., with keynote speaker Ersula K. Odom.
The 32nd Annual City of Tampa Black History Celebration honors the legacy of our community, reflects upon our history, and creates a community call to leaders and community members on making our region better collectively.
Visit www.cityoftampablackhistorycommittee.org for more information.
Categories: History, Art & Culture Organizations, Entertainment Events, Holiday Events