BPW FL State 2019 Annual Conference: "100 Years Strong"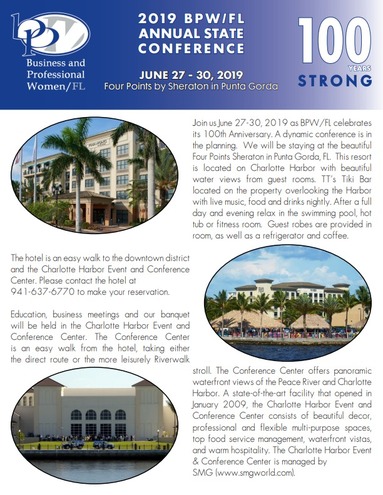 Thursday, June 27 – Sunday, June 30, 2019
Location: Charlotte Harbor Event and Conference Center. (Hotel: Four Points by Sheraton in Punta Gorda, FL)
When: June 27 – 30, 2019
Where: Charlotte Harbor Event and Conference Center.
Hotel: Four Points by Sheraton in Punta Gorda, FL.
Join us this June 27 – 30 in Punta Gorda, Florida, at the beautiful Four Points by Sheraton for four days of enrichment and empowerment from your fellow professionals.
Visit www.bpwfl.org for more information.
Categories: Business, Social, Travel & Hobby Groups, Business Events, History, Art & Culture Organizations, Entertainment Events