Dessert Wars: The Largest Dessert Festival In America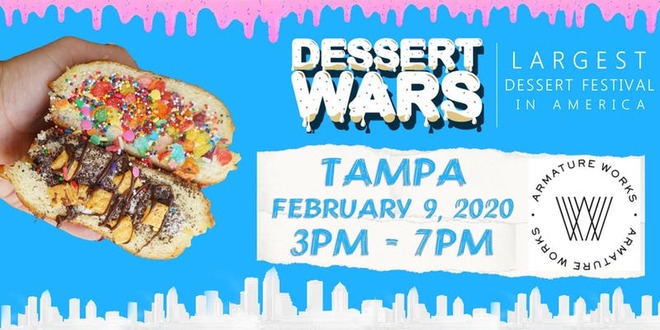 Sunday, February 9, 2020
Location: Armature Works 1910 North Ola Avenue Tampa, FL 33602
Sunday, February 9, 2020 3:00 PM – 7:00 PM
Dessert Wars Tampa will take place at Armature Works on February 9, 2020.
For more info, please go to www.dessert-wars.com
-SAMPLE TICKETS ARE EXCHANGED FOR DESSERT SAMPLES-

-THERE IS NO EXTRA COST FOR DESSERTS-
Dessert Wars is a celebration of the "foodie" lifestyle, featuring dessert vendors vying for the title of Dessert Champion. The event features a wide array of desserts ranging from cupcakes, cookies, ice cream and doughnuts.
Visit www.eventbrite.com for more information.
Categories: Food, Entertainment Events