Evening of Worship and Total Praise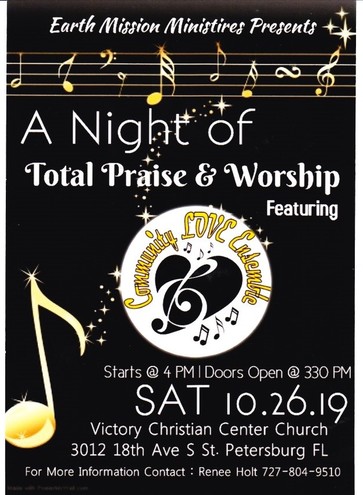 Saturday, October 26, 2019
Location: Victory Christian Center Church 3012 18th Avenue S. St. Petersburg FL
Starts @ 4pm Doors Open at 3:30 pm
Earth Mission Ministries presents to you our community, "CLE" Community LOVE Ensemble. This is a FREE casual relaxing program that you can come and enjoy the ministry of Gospel MUSIC, Cultural DANCE and POETIC Word. During this evening's program, the Rev. Dr. Constance D. Samuels Community Service Award will be presented in two areas of KINGDOM Work. those areas will include: Ministry & Music. The recipients of this award, will be:
Ministry:
Bishop Clark Hazley Sr. - Mt. Pilgrim M.B. Church
Pastor Emiratis Nathaniel Drayton - Unity Christian Church
Pastor Donn Freshler - Victory Christian Center Church
Music:
Mr. Michael Walker Sr. - New Shiloh P.B. Church / Minister of Music
Mr. Eland Wilson - New Jerusalem M.B. Church / Minister of Music
Mrs. Cara Dixon-Taliaferro - Faith Memorial M.B. Church / Minister of Music
Please come and enjoy Jesus with us and also come to support these individuals that have served faithfully in Community KINGDOM Work.
For more information contact Renee Holt (727) 804-9510.
Categories: Faith Community Events, Entertainment Events