How "The View" Became the Must-Stop Show on the Road to 2020 Community Conversation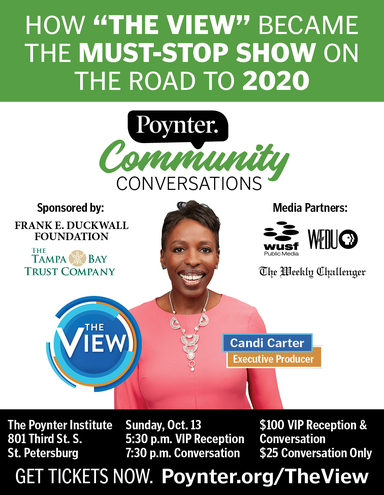 Sunday, October 13, 2019
Location: The Poynter Institute, St. Petersburg, Florida
TIME:
5:30 p.m. — VIP Reception
7:30 p.m. — Conversation
COST: $25 – $100
Join Poynter their next Community Conversation with Candi Carter, Executive Producer of hit talk show The View!
ABC's "The View" has become an essential campaign stop for Democrats and must-watch TV for Republicans.
How did this daytime talk show become what the New York Times called "the most important political TV show in America"? And what does that say about journalism, politics and our culture?
Visit www.poynter.org for more information.
Categories: Civic Events, History, Art & Culture Organizations, Entertainment Events