July Meetup & Mid Day Mixer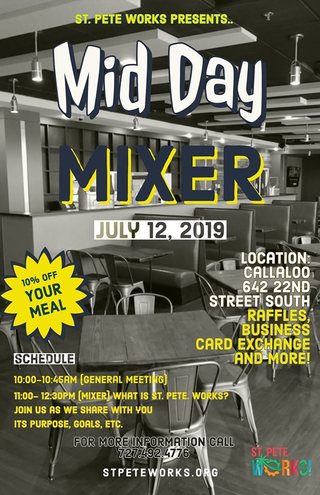 Friday, July 12, 2019
Location: Callaloo 642 22nd Street South, Saint Petersburg, Florida 33712
Friday, July 12, 2019 at 10 AM – 1 PM
St. Pete Works Committee members and Community supporters, it's time to meet again. This month, we will be meeting at Callaloo right down the same street (642 22nd Street S).
Our normal meeting will start at 10am-10:45am
Our Mid Day Mixer will start at 11am-12:30pm

Callaloo is offering 10% off your ticket when you attend this meeting and dine on that day.
Visit https://www.facebook.com/events/2130235570608803/ for more information.
Categories: Business, Food, Business Events, Entertainment Events