Synapse Summit 2020 Launch Event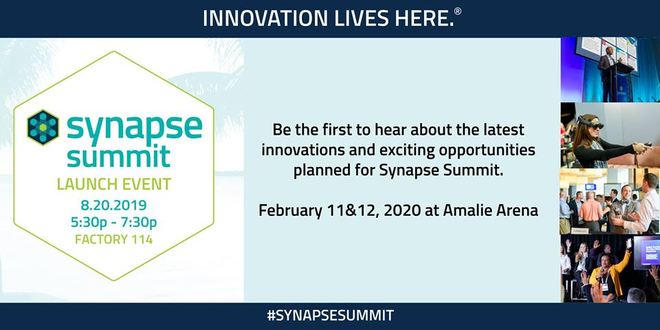 Tuesday, August 20, 2019
Location: Factory 114 114 South 12th Street Tampa, FL 33602
Tue, August 20, 2019 5:30 PM – 7:30 PM
Join on August 20th for the official kickoff of Synapse Summit 2020! Be the first to hear the latest innovations and exciting opportunities planned for Synapse Summit on February 11 & 12, 2020 at Amalie Arena.
Meet some of our most innovative exhibitors and learn how to maximize your company's experience at Synapse Summit. Exhibitors who sign-up that night will have priority to select your booth location.
Visit www.eventbrite.com for more information.
Categories: Manufacturing, Industrial & Energy, Technology & Telecommunications, Civic Events