Teepa Talk: Taking a Positive Approach® to Dementia Caregiving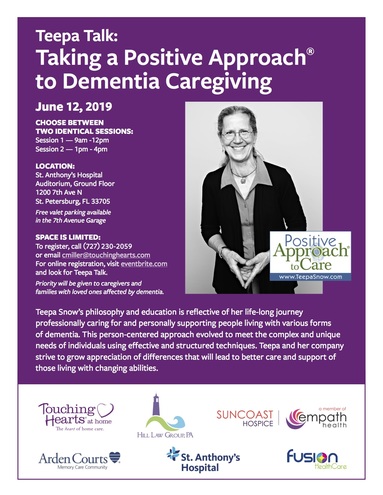 Wednesday, June 12, 2019
Location: St. Anthony's Hospital Auditorium, Ground Floor 1200 7th Ave N St. Petersburg, FL 33705
CHOOSE BETWEEN
TWO IDENTICAL SESSIONS:
Session 1 — 9am -12pm
Session 2 — 1pm - 4pm
Teepa Snow's philosophy and education is re ective of her life-long journey professionally caring for and personally supporting people living with various forms
of dementia. This person-centered approach evolved to meet the complex and unique needs of individuals using e ective and structured techniques. Teepa and her company strive to grow appreciation of di erences that will lead to better care and support of those living with changing abilities.
Visit www.eventbrite.com to register or call (727) 230-2059 or email cmiller@touchinghearts.com For online registration, visit eventbrite.comand look for Teepa Talk.
Categories: Health Events