Vogue Enlists Black Artists Kerry James Marshall and Jordan Casteel to Paint History-Making September Covers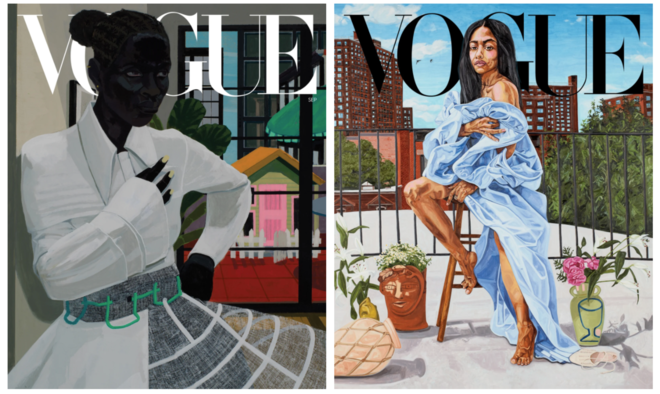 Wednesday, August 26, 2020
2020 has been the most dizzying year in recent memory, upending much and not enough of our sense of our security, place, and hope in the future.
This disorientation is so pervasive that even the September issues of fashion magazines—which typically serve as paper bastions of luxury, privilege and aspiration—have redirected to reflect the shifting national consciousness.
Breonna Taylor has posthumously landed on the covers of O, the Oprah Magazine and Vanity Fair, while global activists including Angela Davis and Tamika Mallory, will be featured on the cover of British Vogue.
American Vogue has opted to center Blackness in another way, commissioning contemporary artists Kerry James Marshall and Jordan Casteel to create paintings for its special September issue, which will be centered on the theme of "hope." (It's worth considering that sentiments like grief, despair, or rage also capture the moment, but unlike "hope," probably do little to sell advertisements.)
Visit www.theroot.com to read more.
Categories: History, Art & Culture Organizations