Creative Clay Fest accepting applications for artist vendors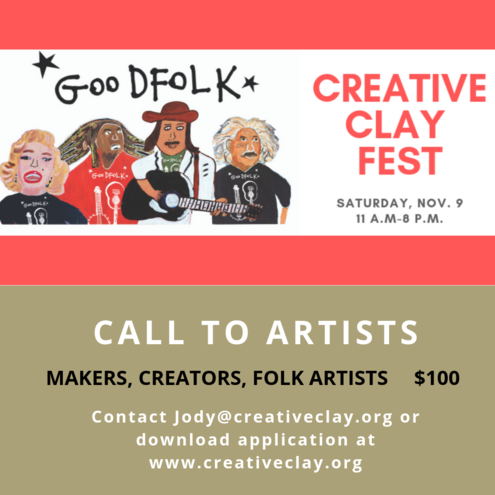 Monday, September 23, 2019
November 9, 2019 11:00 am - 8:00 pm
– Creative Clay Fest, Creative Clay's largest fundraiser, will be Nov. 9, 11 a.m.-8 p.m., in the Grand Central District, across from Creative Clay, 1846 First Ave. S.
Creative Clay Fest (formerly Folkfest St. Pete) is a celebration of original art and live music. Now in its 13th year, the festival was created to draw good folks to the mission of Creative Clay and raise funds to support its programs for people with disabilities.
Creative Clay Fest attracts local makers, creators and folk artists, as well as those from throughout the state and Southeast. Confirmed vendors include Missionary Mary Proctor, Don Stone, Jack Beverland, Rasta Geary Taylor, Nicholas Holman, Altered by Michelle, Pergamo Paper Goods, Black Sun Body Art and Red Tent Women's Initiative. Creative Clay artists also will be selling their original folk art.
Qualifying vendors must sell original art or hand-made merchandise for this curated festival. The vendor fee is $100. Interested applicants should download a vendor application at www.creativeclay.org or contact jody@creativeclay.org.
Categories: Business Events, History, Art & Culture Organizations, Entertainment Events