How to Buy and Lease commercial property in our community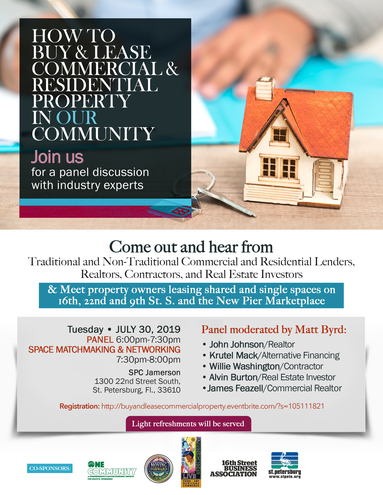 Thursday, July 18, 2019
Date & Time: Tue, July 30, 2019 6:00 PM – 8:00 PM
Location:
St Petersburg College (Jamerson Building) 1300 22nd Street South St. Petersburg, FL 33712
Come out and hear from Traditional and Non-Traditional Commercial and Residential Lenders, Realtors, Contractors, and Real Estate Investors. Meet property owners leasing shared and single spaces on 16th St, 22nd, and 9th Street. Also, learn more about leasing space at the New Pier Marketplace.
Visit www.eventbrite.com for more information.
Categories: Business, Land & Real Estate, Cycle of Life, Business Events