Mentoring Opportunity Program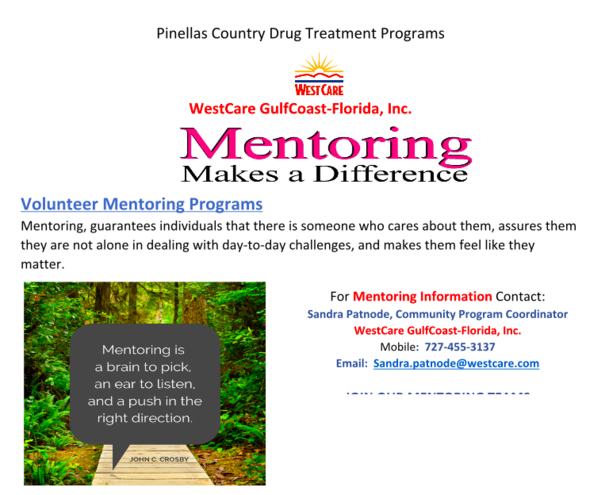 Wednesday, September 30, 2020
Mentoring takes place between Client (Mentee) and Mentor who is acting in a non-professional helping capacity to provide relationship-based support that benefits one or more areas of the mentee's development.
Mentors coach and assist mentees through potential barriers, provide advocacy, guidance, support, encouragement and connection to transition into the community. Mentors also…
Offer positive choices, Celebrates Accomplishments, and throughout the relationship – offering encouragement, boosting self-esteem, and building hope.
Mentor Requirements:

- 4 monthly contacts with Mentee:By Telephone, Virtual calls or Face-to-Face
- Pass a Level II Background Check
- Pass a Drug Screening
- Attend Court Sessions with their Mentee (Currently Virtual Court)
- Attend Trainings as scheduled

For Mentoring Information Contact:

Sandra Patnode, Community Program CoordinatorWestCare GulfCoast-Florida, Inc.

Mobile: 727-455-3137

Email: Sandra.patnode@westcare.com

JOIN OUR MENTORING TEAMS

Veteran Mentoring Program

Drug Court Mentoring Program
Categories: Business, Health Events