Small Business Enterprise Eligible Consultants Opportunity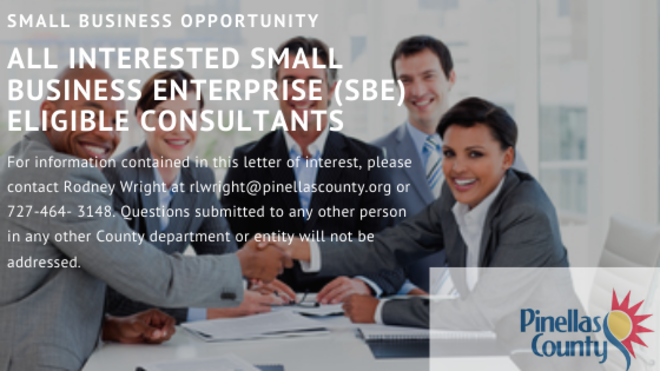 Thursday, December 5, 2019
ALL INTERESTED SMALL BUSINESS ENTERPRISE (SBE) ELIGIBLE CONSULTANTS
FROM: PINELLAS COUNTY PURCHASING DEPARTMENT
RE: Request for Letters of Interest No. 189-0500-LI (RW) for Pinellas County SBE Consultants per the Consultant Competitive Negotiation Act (CCNA)
I. Background and Objective:
The Small Business Enterprise Program (SBE Program) has been in place since 1992 and is jointly administered by the Pinellas County Economic Development and Purchasing Departments. The SBE is non-specific to gender or race providing opportunities for small businesses meeting the following requirements to participate in the market created by Pinellas County Government. The SBE Program has a sheltered market component up to $100K; in other words, firmsdeemed qualified as SBE's per the criteria listed below will be provided first opportunity for engagements below the$100K threshold. Qualified SBE's will be placed on a qualified list for engagements less than $100K and utilized by County departments based on the firm's area of expertise and qualifications. To be qualified, a firm must meet thefollowing minimum qualifications:
-The business must be located in Pinellas, Hillsborough, Pasco, or Manatee counties

-The number of employees must not exceed 50 full-time employees.

-Annual Sales do not exceed the maximum 3-year average gross revenues of $3 million for businesses providing selective goods and services or gross revenues not exceeding $8 million for construction service providers.

To ensure greater utilization of certified Pinellas County SBEs, the Purchasing Department is seeking to establish a pool of certified SBE consultants for CCNA engagements below the $100K sheltered market threshold.

For information contained in this letter of interest, please contact Rodney Wright at rlwright@pinellascounty.org or 727-464- 3148. Questions submitted to any other person in any other County department or entity will not be addressed.
Categories: Business, Finance, Manufacturing, Industrial & Energy