Tampa Bay Black Heritage Financial Seminar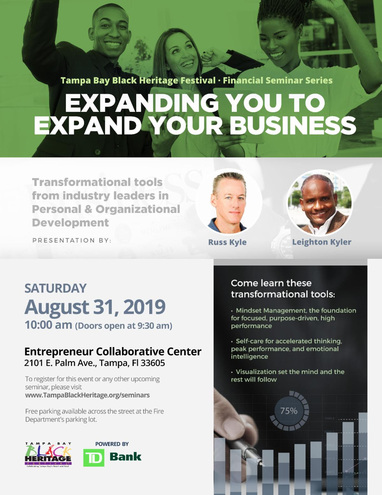 Friday, August 30, 2019
Expanding You to Expand Your Business
Saturday, August 31, 2019 | 10:00am (Doors Open at 9:30am)
Entrepreneur Collaborative Center at 2101 East Palm Ave., Ybor City, (Tampa, FL).
For the convenience of our attendees, parking is FREE across the street in the Sheriff's lot.
The series takes place throughout the summer and fall months with the larger seminar taking place during the annual Tampa Bay Black Heritage Festival in January. The Tampa Bay Black Heritage Entrepreneur Advisory Board, are comprised of local professional business owners who encompass a vast amount of knowledge and skills to help you better your business.
Visit www.tampablackheritage.org for more information.
Categories: Finance, Business Events, History, Art & Culture Organizations, Entertainment Events