The Freed 2 Love Bootcamp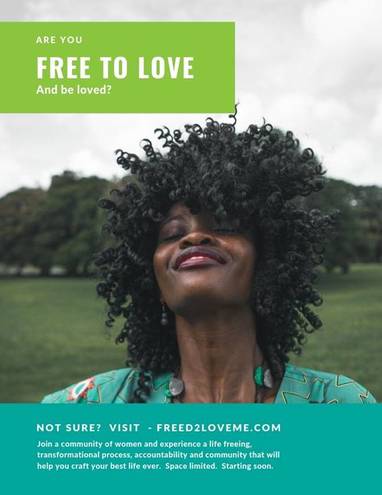 Tuesday, September 17, 2019
What if you:

-Had your life full of peace, joy and assurance?
- Finally got to a point where you sleep well at night and let go of the worry?
- Learned how to trust and love yourself so you are free to love others?
- Had the accountability, roadmap + support to consistently be moving forward in your life?
You can!
Enter The Freed 2 Love Bootcamp!
In The Freed 2 Love Bootcamp you can experience a life freeing, transformational process, accountability and community that will help you craft your best life ever. You will have an opportunity to experience God and yourself in a fresh new way.
You can finally, have, do and be the person you've known that has been buried in hurt, pain and regret. You can emerge as that diamond and treasure that you know you are. All from the comfort and convenience of you home.
Interested? OR Know someone who would benefit, please share this flyer with them.
Visit freed2loveme.com.
Categories: Health & Beauty, Cycle of Life